Printed materials play a crucial role in a comprehensive marketing strategy by complementing and enhancing digital efforts. While digital marketing offers reach and interactivity, print materials provide a tangible and memorable experience for customers. Here are five insights into the role of print in marketing strategy, ways to integrate personalized print campaigns, and examples of a few successful print marketing campaigns:
Tangible Brand Experience: Print materials offer a tactile experience that digital channels cannot replicate. Brochures, business cards, direct mail, and packaging create a physical connection with customers, allowing them to interact with your brand on a deeper level. Well-designed print materials, especially those that leverage digital print embellishments, can convey brand values, evoke emotions, and leave a lasting impression.
Enhanced Credibility and Trust: Print materials, such as high-quality brochures or well-crafted catalogs, can enhance the perceived credibility and professionalism of your brand. Studies have shown that people trust printed materials more than digital marketing, making print a valuable tool for building trust with your audience.
Multi-channel Integration: Print and digital channels complement each other, creating a powerful marketing combination. Use QR codes, PURLs, or landing pages in print materials to drive customers to digital experiences. Create awareness, generate interest, and guide recipients to your website or social media platforms for deeper engagement.
Personalized Print Campaigns: Personalization is a powerful marketing strategy, and print materials can be personalized to create a unique experience for each recipient. Variable data printing allows you to tailor content, images, and offers based on individual preferences or demographic information. Personalized direct mail can significantly increase response rates and customer engagement.
Creating Memorable Brand Experiences: Large format prints and environmental graphics allow brands to transform spaces and create immersive brand experiences. Whether it's a captivating wall mural, an eye-catching trade show booth, or branded signage in a retail environment, these print materials have the power to capture attention, make a statement, and leave a lasting impression.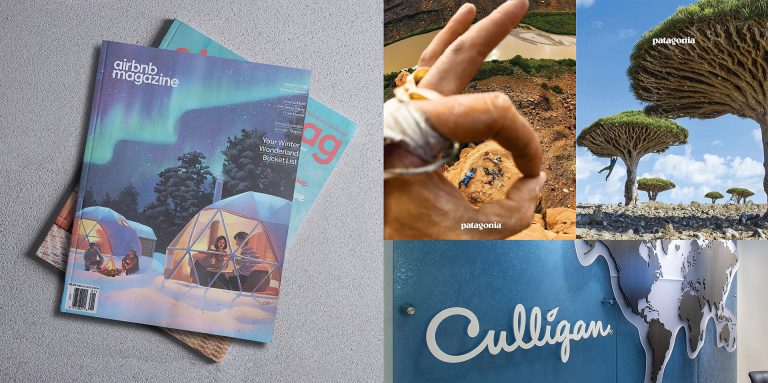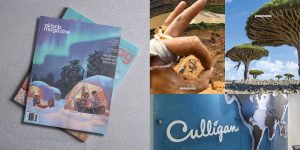 Several successful print marketing campaigns have showcased the power of print materials in creating tangible brand experiences. Acting as a proverbial guidebook, Airbnb's promotional coffee table magazine, Airbnb Magazine, provided authentic stories about travel, customized tips and recommendations to travelers – enhancing the travel experience. Patagonia's beautifully designed catalogs consistently engage customers, showcasing products, and reflecting the brand's environmental commitment. Furthermore, Culligan created an immersive branded environment through large format graphics, imparting an indelible memory. These campaigns highlight print's ability to enhance credibility, drive personalization, and make a lasting impact on customers and audiences.
Remember to align your print materials with your overall brand identity and marketing goals. When necessary, integrate print and digital channels to create a cohesive and impactful customer experience. By leveraging the unique strengths of print, you can enhance your marketing strategy and create memorable interactions with your audience. •