In an age dominated by screens and scrolling, the enduring potency of print marketing, which encompasses marketing collateral, packaging, environmental graphics, and direct mail, continues to make a profound impact. While digital marketing plays a pivotal role in contemporary brand awareness and advertising campaigns, print marketing captivates audiences and leaves an indelible impression. The effectiveness of physical marketing assets is highlighted by their astounding 77% brand recall rate, significantly surpassing the 46% achieved by digital outreach – according to industry research. Notably, hard-copy collateral boasts a higher response rate compared to digital ads, with direct mail being nearly 10 times more effective in this regard. Print, contrary to misconceptions, is not dead, but thriving.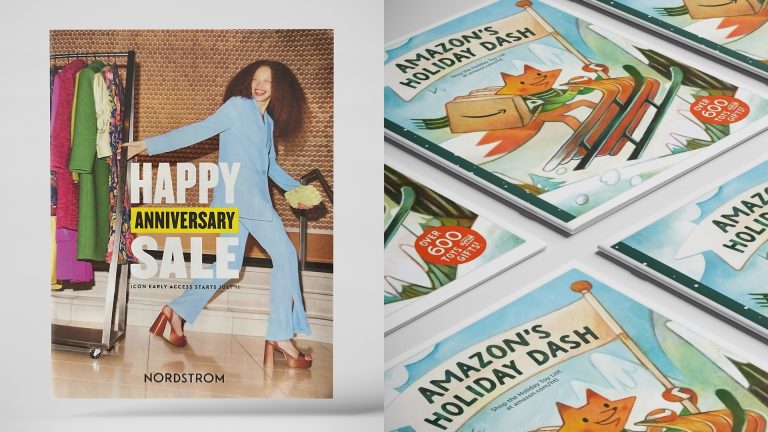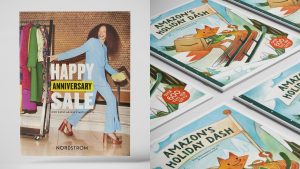 A Resurgence of Print Marketing:
The resurgence of print marketing is a testament to its lasting impact in the digital era. This year, the 122-year-old fashion retailer Nordstrom re-launched its anniversary sale catalog after phasing out the print publication in 2019. Similarly, Amazon-owned online retailer Zappos increased its print efforts by launching its first print catalog as part of its back-to-school marketing campaign.
Nordstrom and Zappos aren't alone in investing in print marketing efforts. Since 2018, Amazon has been mailing a printed holiday toy catalog to customers, demonstrating the continued relevance of print in reaching a broad audience. Lifestyle clothing label Madhappy launched a print magazine in August 2023, named "Local Optimist," emphasizing the tangible and immersive nature of print materials. Even lifestyle brand Frances Valentine recognized the potential of print marketing, and launched its print catalog in 2020, just before the pandemic, defying the notion that print was in decline.
The Versatility of Print Marketing:
In a world characterized by rapid digital transformation, print marketing stands as a resilient and versatile tool for businesses seeking to redefine their marketing strategies:
Folding Carton Packaging's Promising Trajectory: The global folding carton packaging market is poised for substantial growth between 2023 and 2030, affirming the pivotal role of print in packaging materials. This form of print marketing enhances brand presentation and consumer engagement.
Environmental Graphics' Power in Branding: Environmental graphics go beyond aesthetics; they are essential for shaping a company's physical representation and brand identity. They convey a brand's history, culture, and values – fostering a deeper connection with employees and customers.
Printed Marketing Collateral's Impact: General printed marketing collateral material, such as brochures, catalogs, magazines, and promotional materials, creates tangible and memorable brand experiences. It goes beyond the digital realm to provide physical and lasting impressions, defying the notion that print is dead.
Direct Mail's Unparalleled Impact: Direct mail marketing offers a multitude of advantages, including high response rates, precision in targeting, personalization opportunities, and trackability. Its tangible and memorable nature ensures that messages resonate with recipients and elicit a higher response.
The Synergy of Print and Digital:
Print marketing isn't at odds with digital channels; instead, it thrives in synergy with them. Integrating print materials into digital strategies, such as using QR codes, personalized URLs, and online/offline brand consistency, amplifies the impact of marketing efforts. This underscores that print marketing is far from obsolete, and continues to be a dynamic force in brand promotion and customer engagement.
Final Thoughts on Print Marketing:
Print marketing in the form of marketing collateral, packaging, environmental graphics, and direct mail is not just relevant; it's thriving. The examples of well-established brands and retailers embracing print reflects the enduring power and versatility of printed materials. By combining the tangible and memorable aspects of print with digital channels, businesses can redefine the possibilities of marketing, creating lasting and meaningful brand experiences that leave an indelible impression on their audience. In a world often saturated with fleeting digital content, print stands as a testament to permanence, occasionally transforming marketing and packaging endeavors into collectible artifacts. The resurgence of print marketing reveals that it is indeed a potent force in the marketing world – capable of captivating and engaging a diverse audience.
Sources: