Cincinnati and Northern Kentucky are renowned for being rich in design and branding talent. As the effects of COVID-19 continue to take its toll, we look to further highlight local creatives who are making an impact in the community. This month, Graphic Village sat down with Jason Snell, former owner of OTR-based agency We Have Become Vikings, and current Creative Director at BLDG in Covington.
Snell established his design chops early while attending DAAP at the University of Cincinnati. With almost two decades of imposing brand work to his credit, he has worked on such notable brands as Virgin America, Amazon, Third Man Records and F1 Racing. Locally, he's had the distinction of working for and partnering with creative shops that include FRCH, Lightborne and Landor.
A believer in community, Jason servs on the advisory board for King Studios (King Records), while also finding time to lecture and teach at the Art Academy of Cincinnati. Combining illustration, design and motion to bring interactive storytelling to life, his ultimate effort to connect design and community culminated last year in an immersive project with BLDG for the 2019 BLINK Festival in Cincinnati and Covington.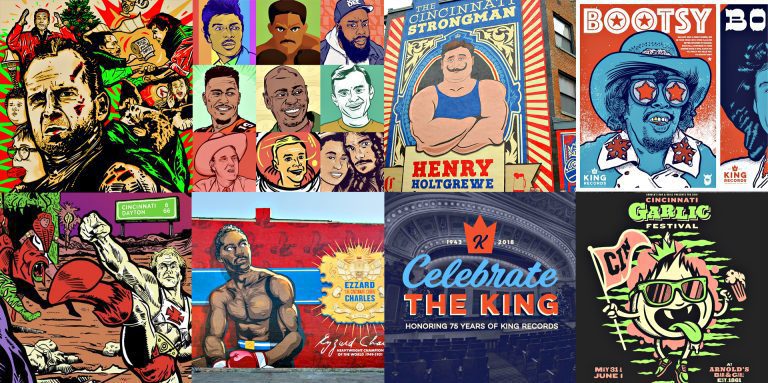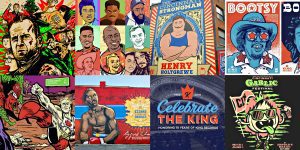 GV: We're very interested in your background. How did you start out?
JS: I went to UC for design school, and initially didn't know what I was doing. I started off drawing type all day and didn't get it, so I quickly got into animation. Back then there was new media emerging in fine arts that allowed me to combine a hand-drawing aesthetic with animation. Combining mediums influenced me and changed my mind about what design is, and what it can be. While combining paint and animation is a no-no in some places, it's what I do every day now.
After UC, I started off freelancing. Eventually I got into the agency world, and worked for FRCH. Working there afforded me the opportunity to travel and be creative with motion graphics for big brands. Through this I saw the value of having a hand in the digital world, and that mesh inspired me to want more of that.
I continued working at a bunch of different agencies, and eventually landed at Lightborne. Working there led me to bigger opportunities where I learned about what I didn't want to do. However, being nice to people along the way eventually took me out to Seattle where I traveled back and forth working on the Fire Phone for a year. I also spent time in Austin working on the Formula One Racing rebrand, which was a great learning experience for me.
At one point I was let go from an agency, which turned out to be the biggest blessing in disguise. I then took that opportunity to start up We Have Become Vikings – which I rode for twelve years. Doing my own thing really allowed me to stretch my legs and learn about business. Long story short, I'm at BLDG now. It was just such a great move for me. I'm now the creative director, and a lot of similar neighborhood work that we were doing at Vikings, like making better communities through design, we're also doing that here as well.
GV: So, what influenced you when you were a kid. What brought you to the realization that you wanted to be a designer?
JS: There was this place called Cow Skates in Dayton, and it turned into the guys that took off with Alien Workshop Skateboards. Seeing that, and realizing that you didn't have to be in team sports was an influence, but really the graphic side of comics, cassette tapes and baseball cards. The blending of all these things inspired me to draw and trace this stuff. One time, my parents took away my pencils and paper as a way of grounding me. But comics mostly. Stan Lee and Jack Kirby, those guys were comics masters. They had style, but there was a lot of education behind what they did as well.
Music was always a big influence too – Iggy Pop, Van Halen, Detroit hip hop, listening to my dad's old classic rock, plus the Beastie Boys on top of that – those worlds just blended. Dirty rock and hip hop, that to me was this thing that constantly inspired me, and set the stage of where my adolescence and design aesthetics would go.
GV: Who do you follow? Are there other designers who stand out to you? Who's doing interesting work that you're looking at?
JS: There's so much awesome stuff out there. Burrito Breath is crazy. I love Aesthetic Apparatus, those guys in Minnesota. We talked about Lincoln Design in Portland and Mighty Short. They're super cool. I'm friends with Aaron Draplin. I love all his work. It's been very cool to see him take off – doing all his talks. Tad Carpenter has really great stuff. I don't know. I'd have to pull out my Instagram. There's so much on there. It's really endless. Oh yeah, Jamie Hewlett, the guy who did Tank Girl and the Gorillaz. I'm just now diving back into his work, and his shit is just blowing me away. Also, Frank Miller and the Batman stuff. We talked about Jack Kirby. Todd McFarlane. These guys just make things look easy. That's the beauty of Instagram.
GV: Do you think all the early drawing you did as a kid helped you get to where you are now?
For sure. You know I left drawing for a while. When you're just diving into design and branding, you tend to leave that stuff, but now I'm going back to that. I want to draw that stuff now more than when I was a kid. I want to animate and I want to draw again, and I think there's room for that in advertising. There's room in design for that stuff too.
GV: What are your tools of preference? I assume it depends on the project at hand?
JS: It depends, but I can't live without my Wacom tablet. I try not to use a mouse anymore. I'm just on that thing for everything. That was something I learned while at Lightborne. Everyone used that to edit video, and I realized this is like drawing again – I'm leaving the mouse behind. So that's the tool I now use most often, as well as having Draplin's Field Notes in my back pocket for taking down quick sketches, notes and ideas. Other than that, it's all Wacom.
GV: Do you start out with pen and paper and take that to the tablet?
JS: Well, yes and no. I start out in the sketchbook as a means of reminding me to go back to it later. Then, I'll just blow out everything and do it more refined in the Wacom. I've taken years off by using the tablet, but there's a learning curve to it. At Lightborne I was forced to learn it because everyone else around me was using it as well. I realized, I'm going to do it, and that was one of those changing moments for me.
GV: What projects now are exciting you the most? Is it your mural work?
JS: What's been most exciting for me has been the neighborhood work, because you get to see results fast. It's different when you see someone in person and get a smile rather than just get a social media Like. That work, involving murals, has been very cool. Also, just more illustrating combined with motion work. Things with a hand to it. That's what's been exciting for me, and I think every brand should have a taste of that, but seeing where illustration fits in is also a challenge. So, it's been very fun, and that's where I've been at lately. It really is such a signature.