Flynn Restaurant Group; Alex's Lemonade Stand Foundation
Alex's Lemonade Stand Foundation (ALSF) is a charitable foundation inspired by a young girl named Alex who lost her battle with cancer at the age of eight. Inspired to help discover a cure, Alex began raising money to fund childhood cancer research at the young age of four. Following her passing, Alex's parents officially established the ALSF Foundation in her honor. Their mission, to change the lives of children suffering with cancer by funding impactful research, raising awareness, supporting affected families and empowering others to also help in the cure toward childhood cancer research and awareness.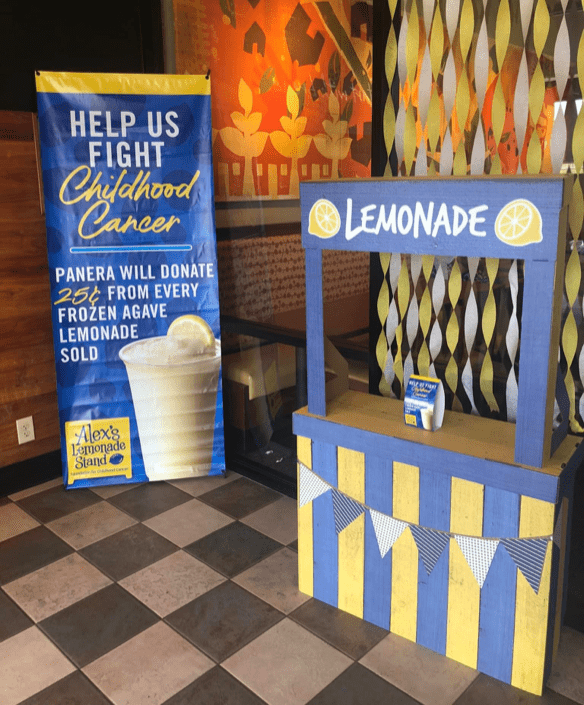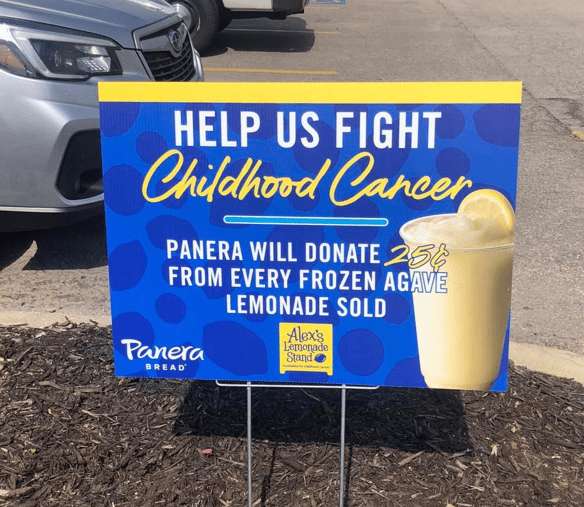 While maintaining ALSF's established brand standards, the 2022 campaign also needed to integrate the Applebee's and Panera branding and products – both of which included beverages and messaging outside of a traditional lemonade stand. We also needed to ensure the Flynn Restaurant Group campaign was cohesive with the national creative distributed by the Applebee's brand. Alcoholic beverages were also effectively added to the line-up of charitable fundraising items available for purchase, as well as appropriate vendor logo placement without distracting from the theme of the Foundation.
The unique partnership between Flynn, Applebee's and ALSF has allowed over $13 million in donations over the years, including $544,855.60 from Apple American Group in 2022. Pan American Group was able to donate $196,408.79 to ALSF as the result of their 2022 campaign. These fundraising achievements were facilitated by the dependable and creative services our company provides, including but not limited to initial strategy development and planning, graphic design services, economical print production and a highly organized nationwide distribution of awareness-generating materials. Our ever-growing relationship with both Flynn Restaurant Group and ALSF continues to allow us to implement successful print marketing deliverables that work for all involved parties, while concurrently supporting strong fundraising initiatives.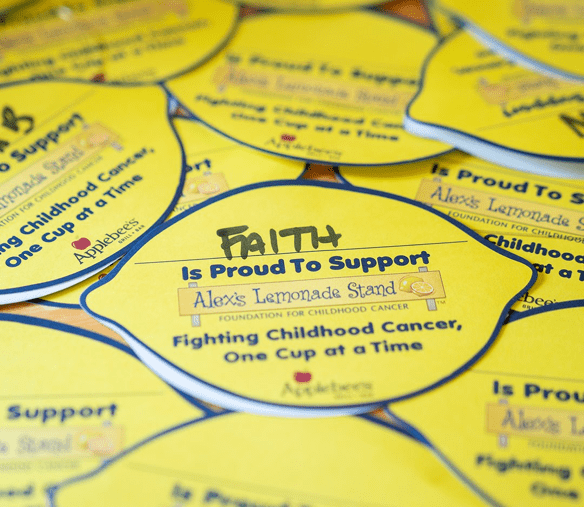 The team at Graphic Village did an impeccable job printing and installing the vinyl graphics in our facility. The result is
...
a beautifully branded workshop that stands out when visitors tour our facility. This space is something we are truly proud of, and thanks to the help from Graphic Village, it's easy for guests to see how passionate we are about what we do."