AddUp is a global metal additive manufacturing OEM and service provider of Power Bed Fusion (PBF) and Directed Energy Deposition (DED) technologies. Headquartered in France, AddUp's Solution Center in Cincinnati, Ohio is the company's first subsidiary outside of Europe. Aside from providing metal AM printing services for their customers, their Cincinnati space is also a demonstration facility, designed to present their additive manufacturing technologies to current and prospective customers. For this reason, AddUp wanted their facility to operate as a uniquely branded environment for showcasing their operations and services. After meeting with AddUp to initially understand their strategic objectives and goals, the challenge for Graphic Village was to then propose how to bring their vision to life – estimating the greatest visual impact possible through their anticipated budget, all while adhering to their timeline without interrupting facility operations.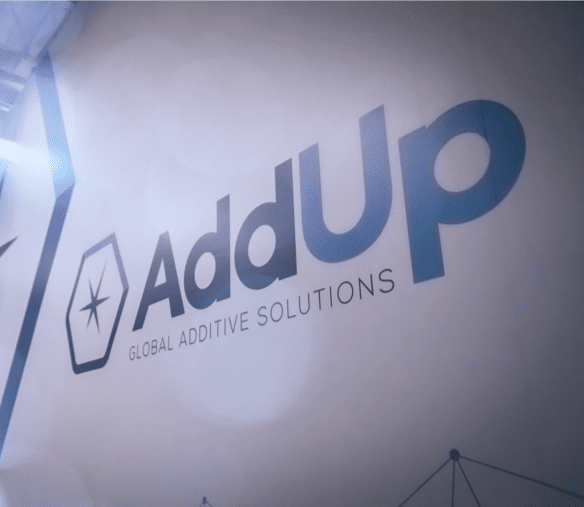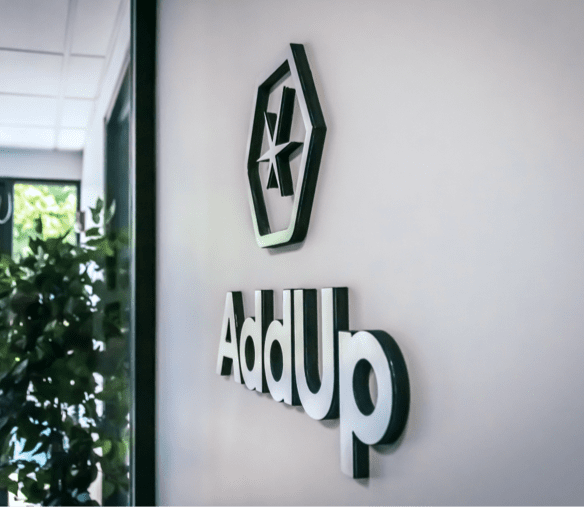 Before their branded environment initiative, Graphic Village had previously partnered with AddUp on a variety of projects that included outdoor signage, marketing collateral and tradeshow graphics. Having already established a relationship with GV, the AddUp team again approached us to help them explore ways to visually enhance their manufacturing space. As they requested, they wanted the space to, "come to life!" Their design team was able to collaborate with our team, and together we settled on several substrates that would allow us to effectively brand their Cincinnati Solution Center.
Connecting people to the spaces that surround them is imperative, and a goal of AddUp was to energize their
employees, through branded environments, into feeling more connected to the company – all while establishing an
impactful, visual showcase of their brand with facility visitors. With decades of experience, our expertise runs the gamut from reliable execution and credibility to craftmanship and consistent quality. Our talented team of collaborative specialists thoroughly understood how to activate AddUp's strategic vision; and by transforming their atmosphere into a more meaningful experience, we established both company pride for AddUp workers as well as admiration and enduring credibility with visiting AddUp customers and prospects to their demonstration facility.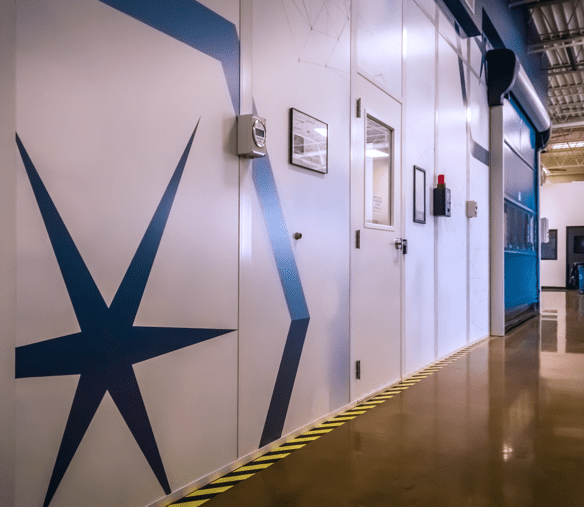 The team at Graphic Village did an impeccable job printing and installing the vinyl graphics in our facility. The result is a beautifully branded workshop that stands out when visitors tour our facility. This space is something we are truly proud of, and thanks to the help from Graphic Village, it's easy for guests to see how passionate we are about what we do.
Working with Graphic Village was easy and stress free. Never did I worry that the job would not be completed with the upmost quality and integrity. The team from Graphic Village was attentive to all of our needs and was prompt in meeting our deadlines. Most importantly, the quality of the graphics and materials is clear, and helps present AddUp in the best way possible for our potential customers.