We are excited to announce that Graphic Village (GV) has made a strategic investment in a new high-volume, fully-variable, high-speed press. GV recently purchased a SCREEN Americas Truepress Jet520HD+ series press, which was installed in late March 2023 and was online and running by the end of April 2023.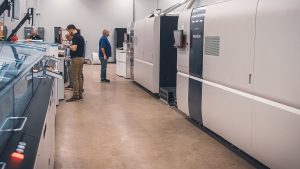 With our strategic decision to add new technologies, expand service offerings and grow our presence through numerous strategic acquisitions, we have become the largest, independent, print solutions provider in the Greater Cincinnati region. The addition of the new SCREEN Americas press adds substantial digital printing power to our fleet of presses – increasing our capacity to accommodate and manage higher-volume jobs at an increased speed-to-market pace.
High-volume production needs, combined with speed to market and flexibility, were the key decision drivers behind the selection of the Truepress Jet520HD+ press, a roll-fed, high-speed, high-definition inkjet web press. The sophistication of this equipment makes it possible to run it at a maximum speed of up to 492 feet per minute (two-sided) and offers the flexibility of printing offset-quality production on multiple substrate types – a crucial benefit in an environment afflicted with supply chain issues and high paper costs. In addition to accelerated production, the inclusion of proprietary water-based inks, advanced image processing tools and higher-efficiency drying technologies, the new press will support our ability to achieve consistent quality at higher, more cost-effective speeds – an added value critical to the brands we serve.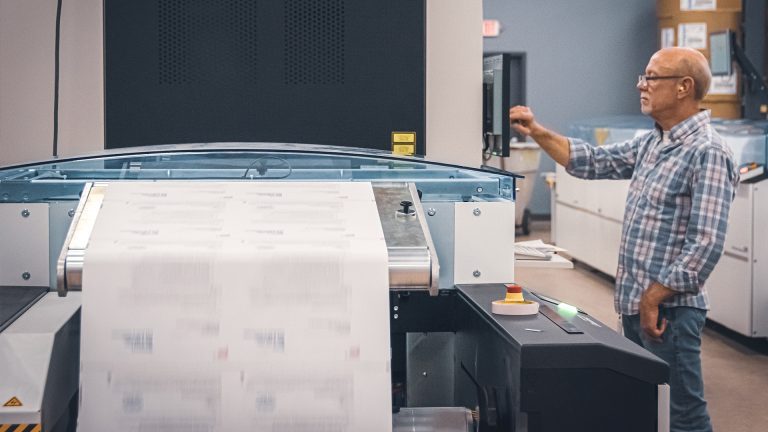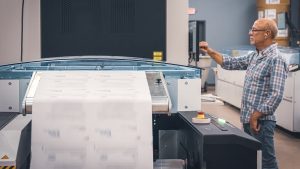 "We are extremely excited about the expanded capacity this press is going to provide us," said Patrick McMullen, Chief Executive Officer of GV. "A growing segment of our data-driven print work is no longer cost effective on sheet-fed, digital presses. A rising demand for variable-print, high-volume, high-quality orders with our diverse client base made the decision to add this type of print technology very easy."
An additional key driver in the selection of the Truepress Jet520HD+ entailed the ability to produce variable data and personalized materials at the same levels of quality as offset at no additional cost. Eric Kahn, Executive Chairman of Graphic Village noted, "The installation of the SCREEN Americas Truepress Jet520HD+ is in line with where our company is heading. Efficiencies of speed, quality, flexibility and cost-effectiveness will allow us to be more competitive and further thrive in the marketplace, while meeting the needs and challenges of our clients."